International Day of Slayer XVI - June 6, 2021
June 6, 2021
Time flies and life goes on, but Slayer remains eternal, not just as a source of some of the best music created since Beethoven, but as a rallying not just of metal but of the indomitable spirit of all who want to live as if life mattered instead of for blind obedience to symbols. Consequently we celebrate the Sixteenth International Day of Slayer this June 6, 2021, the way we always have: by blasting massive amounts of Slayer.
To help you celebrate, we have uploaded two new Slayer rarities: a live set (125mb) from 1985 in Luttenberg, The Netherlands where you can hear classic Slayer at top volume, and the 1983 two-song Slayer demo (45mb) which showed the greatness that would shortly be arriving!
We are also including this video from 2018 where the Slayer camp reminded us of the importance of NDOS:
And an event which happened last year celebrating 35 years of live Slayer music in Eindhoven, The Netherlands: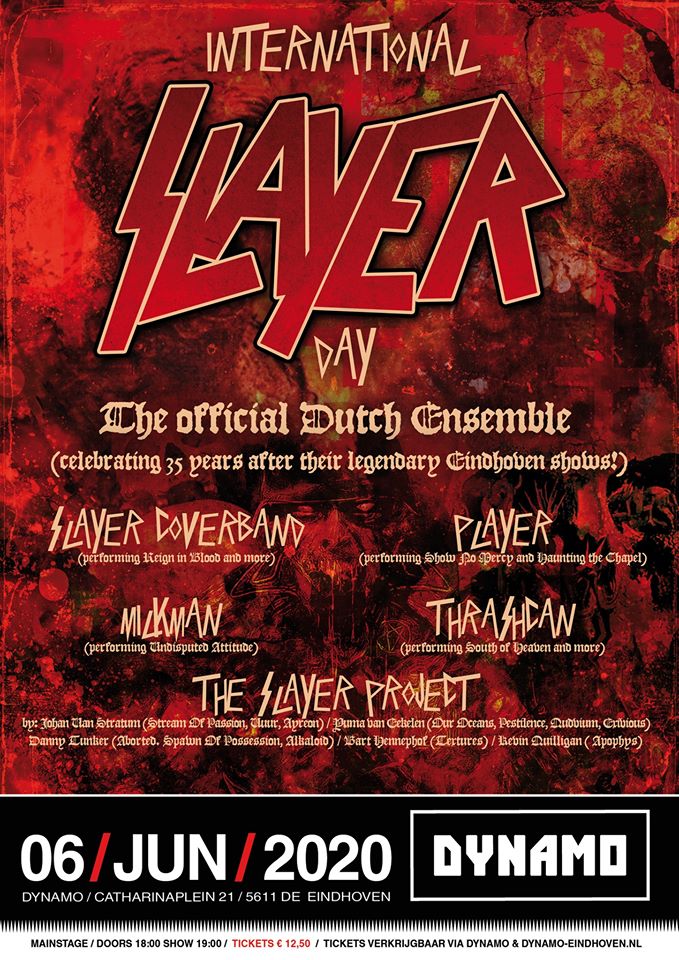 In addition, as we have come to rely on, the Slayer camp have issued forth a special merchandise package for what they call "Slayer Day" (we are not opposed to this name!) which Slayer fanatics can enjoy wearing around the suburb, urban dystopia, UFO base, or zombie survival camp: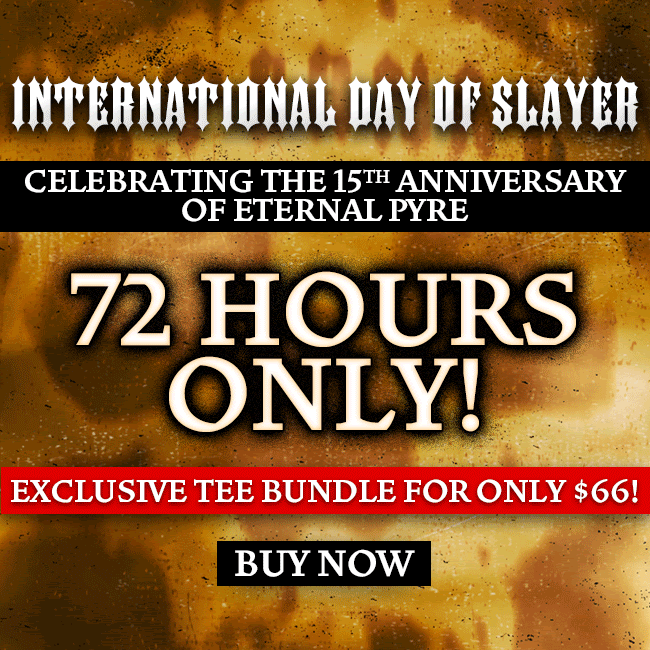 Celebrate Slayer Day and the 15th Anniversary of Eternal Pyre with this web exclusive bundle!

PREORDER: This product is currently in pre-order and will ship in late June. All items in your order will be held until this item comes into stock. Items will not ship separately.

The Eternal Pyre Skull Tee by Slayer is a black tee with a smoldering skull and a reimagined Slayer logo.

100% Preshrunk cotton
Unisex fit

The Eternal Pyre Long Sleeve Tee by Slayer is a black long sleeve tee featuring pentagrams along the sleeves along with a reimagined Slayer logo on the chest on top of a screaming skull.

100% Preshrunk cotton
Classic Fit
Thank you for joining us, and we hope you have a masterful and LOUD International Day of Slayer!