White House denies us on Presidential Proclamation
December 29, 2009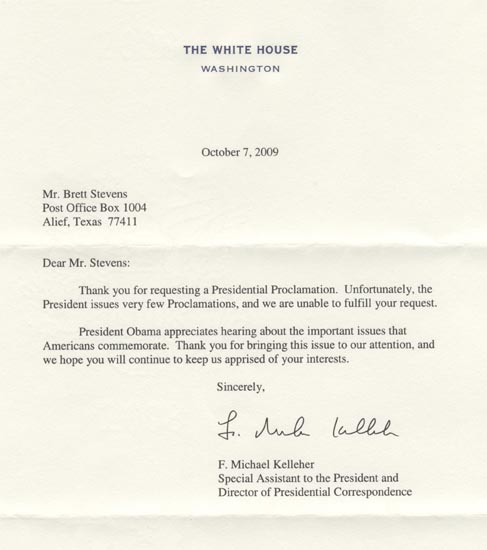 The National Day of Slayer Task Force contacted President Barack Obama with a simple request: could he issue a presidential proclamation declaring metal fans a recognized subculture, and address the need for a National Day of Slayer to celebrate this subculture?
As it turns out, he may be too busy -- or too under fire -- to stop paying attention to mundane political matters and devote time to recognize this subgenre, but we understand. We're going to keep trying, even if this time the White House brushed us off with a form letter.
Slayer is an excellent mascot for the international heavy metal movement, which is composed of un-ironic people who worship war, chaos, death, destruction, natural selection, power and occult strength. We are not concerned with safety and making other people get warm fuzzies. We want the full strength reality brew and we want it now, and Slayer is our emblem.